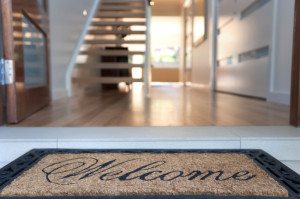 If you're currently trying to sell your home on the local housing market, great news: it's about to get very, very busy for you.
That's because national real estate experts are projecting that this spring will see even more home buying activity than is already expected for this time of year.
Why? Because of pent-up home buyer demand from the unusually cold winter we had.  Home buyers who might have navigated the market in late 2013 and early 2014 ended up holding off because of the bad winter weather.  Can you blame them?  House hunting in frigid temperatures while trudging around in the snow and bad weather is no fun at all.
So now that it's warming up outside, these home buyers – along with those who would have normally entered the market in spring – are flooding the real estate market.
More Trends to Expect This Spring on the National Housing Market
According to a recent Bloomberg article, the spring home buying market (which usually runs from March to June) was delayed because of the unusually bad winter we've had across the country.
This late start meant that home sales declined in February to the lowest level since mid-2012. And the number of contracts signed reached the lowest level since 2011.
Meanwhile, applications for mortgages to buy homes dropped to the lowest since 1995 during the month of February.
While this may all indicate a slowdown, experts are saying that a lot of this activity was related to the unseasonably bad winter. Consequently, they expect home buying to surge over the next few months.
Here are the predictions provided by real estate market experts:
Sales of existing homes will increase to 5.14 million in 2014, compared with 5.07 million last year.
Mortgage lending will total $661 billion, compared with $652 billion last year.
The average U.S. rate for a 30-year fixed mortgage will continue to rise from last year's figure, when it was 3.57 percent.
First time home buyers will continue to increase in the market. For instance, in January, they made up 26 percent of the market. And in February, that figure rose to 28 percent.
The inventory of available homes will decrease. As of recently, the inventory was at 5.2 months.
Some markets are leaner than others. For instance, in Boston and Boulder, the number of homes for sale in February was down about 30 percent from the year before.
Keeping You Updated With the Real Estate 411
Happy spring home buying season to all the sellers out there! It's definitely a great time to capitalize on the home buying energy and get a great price for your property.
And make sure to check back here again in a couple of weeks. You'll be provided with even more news that will aid you as you navigate the market.